Scooter Service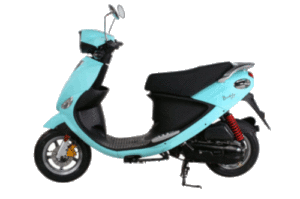 Sales, New and Used | Ride away today with easy financing! | State Safety Inspections | Tires | Batteries | Recommended Interval Service | Repair | Additional Services
---
State Safety Inspections: Scooters with 50cc sized engines (most scooters you see around) do not require state inspection but North Carolina does require that you renew your registration yearly and maintain liability insurance. Scooters with engines larger than 50cc do require yearly state inspections. Getting your inspection done at Combustion Cycles is quick and easy; stop by any time – no appointment is necessary – and in about 10 minutes we'll have your scooter inspected and get you back on the road! Please bring your old registration card if you have one. The state-mandated cost for a scooter inspection is just $13.60.
---
Tires: We stock tires for most every scooter we service. Tires can be installed while-you-wait, any time we're open. A scooter tire with mounting and installation labor starts at $95 out-the-door.
---
Batteries: We stock quality lead-acid ("wet"), gel, and AGM batteries by Yuasa and BikeMaster for most scooters. Batteries can be installed while-you-wait, any time we're open. Installation is just $19 for most scooters.
---
Recommended Interval Service: Keeping up-to-date with manufacturer-recommended interval service is, hands-down, the best thing you can do to keep your scooter running well and running reliably for many years to come. When your scooter is serviced at Combustion Cycles, we let you know what interval services your scooter needs, what's already been taken care of, and what else needs to be done to get up-to-date. And we'll gladly help you prioritize services so you can stay within your budget.
Generally speaking, interval service is recommended every 1800 miles for two-stroke scooters and every 1200 miles for four-stroke scooters. Scooter interval service can be done while-you-wait, any time we're open, and starts at $119.
Don't know if you scooter is a two-stroke or a four-stroke? If it sounds a little like a chainsaw or leaf blower then it's a two-stroke engine. If it sounds a little like a car – a low, "purring" sound, then it's a four-stroke engine.
---
Repair: Whether it is a simple issue like a leak or bad connection, or it's a complete rebuild, we know metric scooters. If you're having a problem with your scooter and can't figure it out, we'll diagnose the problem and let you know what's going on. If a problem can be fixed on-the-fly during diagnosis, we'll fix it and get you back on the road as quickly as possible.
Before we start diagnosing any problems, we ask you to authorize up to 1.5 hours of diagnostic time so that we can get in there and test and take things apart as necessary until we find the problem(s). Then we'll work up a quote for any remaining parts and labor needed to fix the problem(s). We'll contact you with the quote and also let you know about any other work we might recommend. Once you give us a go-ahead, we'll proceed with whatever work you've authorized. Our shop labor rate is $96 per hour.
---
Additional Services: Click here to read about all the many other services we offer at Combustion Cycles for scooters and motorcycles.