For all bikes and riders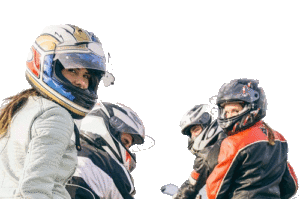 Ride away today with easy financing! | State Safety Inspections | Towing | Insurance Estimates | Performance Tuning | Modifications | Painting, Welding, Fabrication, Restoration | Winter/Summer Storage | Trade-Ins and Purchasing | Parts and Accessories | Apparel
---
Financing: Financing is available for new and used bike purchases as well as for service and repair! Click here to read more about financing.
---
State Safety Inspections: North Carolina requires yearly safety inspections on all road-going motorcycles. Scooters with engines larger than 50cc also require yearly state inspections.
Getting your inspection done at Combustion Cycles is quick and easy; stop by any time – no appointment is necessary – and in about 10 minutes we'll have your bike inspected and get you back on the road. Please bring your old registration card if you have one. The state-mandated cost for a motorcycle inspection is just $13.60.
---
Towing: Bike stopped running? We can tow it in. Too busy to bring your bike by for interval services? We can tow it in and tow it back out to you! If you are within 8 minutes of our shop or within 8 minutes of Top of the Hill in Chapel Hill (according to Google Maps), the towing charge is $45 each way, most of Durham or Chapel Hill outside of those ranges is $60 each way.
If you are more than about 15 minutes away from our shop or Top of the Hill then the rate is calculated according to Google Maps' round-trip time plus 15 minutes for loading and unloading, multiplied by $85 per hour.
---
Insurance Estimates: Combustion Cycles can handle your insurance claim. We work with your insurance company to get your bike repaired right, or to get you the best settlement if your bike is declared a total loss. We do all the work – including towing, if necessary – often at no cost to you.
Because properly repairing crash or theft damage on a motorcycle can be expensive, insurance companies sometimes total bikes that can be perfectly safe and fun to ride without reworking every detail. You may be able to get a settlement and get your bike back.
---
Performance Tuning: We race on the track, we race in the dirt, we like great performance on the street. Whether you're looking for speed, economy, handling, or all three, we have the experience and resources to set you up.
Some of our performance tuning services include carburettor jetting, fuel-injection tuning (using PowerCommander or Bazzaz modules), performance exhaust packages, performance fork rebuilds and mods, sag adjustments, and more.
---
Modifications: Want a different look? A change of seat or handlebars for comfort? Highway bars? Frame sliders? Auxiliary lighting? The latest mod everyone on the forums is talking about? We work with you to make your ideas come to life. We can also undo or fix ill-considered mods from that previous owner.
---
Painting, Welding, Fabrication, Restoration: Our fully-equipped shop handles every aspect of repair and restoration from professional paint work, to welding, to custom machining and fabrication, to full frame-up restoration (including sourcing those hard-to-find parts).
---
Winter/Summer Storage: Going away for the summer, or prefer not to ride in the winter? Secure, climate-controlled indoor storage starts at only $50 per month and storage preparation services start at just $19.95.
Some of our customers store their bikes for a year or more at a time, some keep their bikes safe with us for a week or two while they're out of town. We're happy to take care of your bike whichever way works for you.
---
Trade-Ins and Purchasing: We will buy your bike any time. Bring it by and we can make you an offer in about 10 minutes. If you like the offer, we can write you a check and you can be out the door with a fatter wallet in no time. The advantage of selling to us is both convenience AND security; you don't have to meet people to show them your bike and you don't have to wait weeks for it to sell. We write you a check and you're done. You also have peace of mind knowing your title will be secure until it is titled to the next owner, something CL buyers cannot offer…
---
Parts and Accessories: Combustion Cycles keeps parts and accessories in stock, and if we don't have what you want in stock, we can often have it the next business day. We have racks of tires, batteries, bulbs, oil filters, gaskets, hoses, cables, etc. In our showroom you'll find helmets, gloves, jackets, pants, rain gear, cold-weather gear, locks, mirrors, auxiliary lights, electronic accessories, bike covers, and more.
---
Apparel: Check out our selection of cool Combustion Cycles logo T-Shirts, hoodies, and hats, along with affordable armored jackets, mesh jackets, armored pants, gloves, rain gear, and cold-weather gear.